Mission Statement

Westwood SEPAC (Special Education Parent Advisory Council) is an independent advocacy group with the mission to work for the understanding of, respect for, and support of all children with disabilities in our community.

Requirements for PAC's in Massachusetts:

The Massachusetts Special Education Law, Chapter 71B of the Massachusetts General Laws, requires a school district to establish a PAC, and assigns both an advisory and a participatory function to the PAC. Click here to read the document from DESE regarding Guidance for SEPAC's.

Membership is offered to all parents of students found eligible for special education, as well as other interested parties.

Click here to learn more about the MassPAC - Federation for Children with Special Needs

Helpful Resources for Parents

Click here for English

Click here for Spanish

Click here for Chinese

Click here for Arabic

2018-2019 Westwood Program Guide

Is Special Education the Right Service?

State Complaint Due Process Comparison Chart

Information about Transition (students ages 14-22)

Concord Public Schools SEPAC website

Eligibility Criteria Presentation

A Parent's Guide to Special Education

A Parent's Guide to Selecting a Special Education Advocate in Massachusetts
Contact Information
Visit our website at www.westwoodsepac.org
Email us at westwoodsepac@gmail.com
SEPAC Board:
Megan Brenk - Co-Chair
Meggan Flaherty - Co-Chair
Angela Pomarole - Co-Secretary
Aravind Movva - Co-Secretary
Kelly Anderson - Co-Treasurer
Jennifer Ellis - Co-Treasurer
Next SEPAC Meetings:
January 14, 2019 - 7:00-9:00 pm
Transition Planning Workshop - WHS Guidance office
February 12, 2019 - 7:00-9:00 pm
Basic Rights in Special Education Presentation
March 12, 2019 - 7:00-9:00pm
Understanding accommodations, modifications and my role on the IEP Team
Join us for our Parent Support Meeting
9:00 AM - 11:00 AM
Caffe Nero, Legacy Place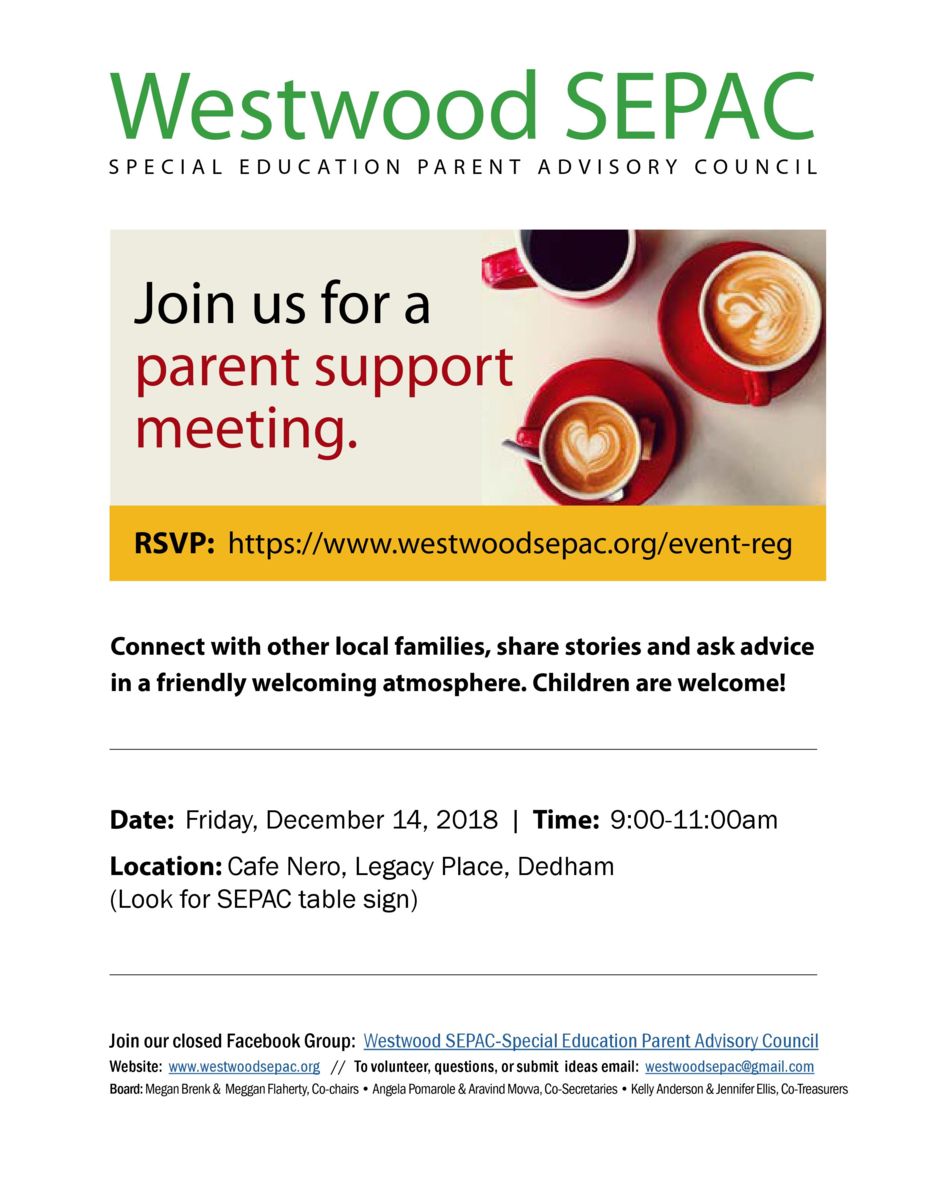 Join us for a parent support meeting. Connect with other local families, share stories and ask advice in a friendly, welcoming atmosphere. Note: Children are welcome! Look for a SEPAC sign on the table.
RSVP at westwoodsepac.org/event-reg or on our Facebook Page.
December 11, 2017 Presentation